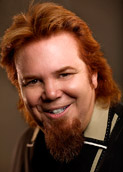 Brian Slawson has been critically acclaimed as a "musical original." While playing marimba on the streets of New York City to finance his scholarship studies at the Juilliard School, Brian was discovered by Mikie Harris, assistant to legendary Columbia Records producer and talent scout John Hammond. (Brian was 1 of 100 all-time alumni to be featured in, "Juilliard - 100 Years of Dance, Drama, Music.")
BACH ON WOOD, Slawson's debut album on the Sony/CBS label, earned him a Grammy nomination for 'Best New Classical Artist' and remained on the Billboard charts for over a year. Slawson has since cut solo albums BOOMERBEATS, XCLASSICS, BOOMER, BACH BEAT, THE BACH ON WOOD VARIATIONS, and DISTANT DRUMS, which features cameos by late blues great Stevie Ray Vaughan, jazz trumpet legend Freddie Hubbard and drummer Michael Shrieve of Santana fame.
Slawson has performed with Leonard Bernstein, Aaron Copland, Joshua Bell, Itzhak Perlman, Isaac Stern, John Cage, Robert Shaw, Bernard Haitink and opera great Jessye Norman. He has punctuated jokes on stage for Jerry Seinfeld, Paul Reiser, Don Rickles, Bill Maher, David Brenner and Eddie Murphy. Brian's pop credits as drummer and percussionist include: Pat Benetar, Marie Osmond, Marvin Hamlisch, Peggy Lee, Johnny Mathis, Bob Newhart, Savion Glover, Michael Crawford, Steve Lawrence & Eydie Gorme, Art Garfunkel, The Mamas and Papas, Xavier Cugat, Regis Philbin, Barbara Eden, Mary Wilson (Supremes) and Bond.
As a featured act, Brian has appeared on "The Tonight Show," "Entertainment Tonight," "The CBS Morning News," and National Public Radio's "All Things Considered." He has made national television appearances in Europe, South America and Japan. A veteran studio musician, Brian has performed on 200 + jingles (IBM, Budweiser, Coca-Cola, McDonald's, Chrysler, American Express, Exxon/Mobil, etc.) and feature film scores for Columbia, 20th Century FOX, SHO Entertainment and Cannon Films. He is a published composer/arranger for Alfred Music Publishing and Tapspace, and a sponsored endorser for Ludwig-Musser, Zildjian, Vic Firth, Remo, Grover Pro Percussion, Alternate Mode, Virtual Drumline, Rhythm Tech and Sibelius.
Slawson has toured the U.S. and Europe with Broadway productions of 'Phantom of the Opera' (assistant musical director/percussionist) and 'Barnum.' Brian also played 'Les Miserables' and 'Barnum' on Broadway. Madison Square Garden appearances include 'Disney On Ice' and Barnum and Bailey's, "Greatest Show On Earth." He has performed the 'Radio City Music Hall Christmas Spectacular,' 'Ben Hur, the Musical' and toured with, 'The Music of Frank Loesser.'
Currently, Brian is the voice of 'Gusto the Bulldog,' in Warner Bros.', 'Music Expressions' and a featured artist in Macmillan/McGraw-Hill's 'Spotlight on Music' curriculum. He is the principal timpanist with the Brevard Symphony Orchestra and a featured performer at Lincoln Center's Meet the Artist Series. His multi-media company, Slawsongs, has received Golden Reel, Addy and Tele awards ('Best Musical Score') for sound tracks and jingles produced for Universal Studios, FL. His smash children's act, 'BoomerBeats' made its NYC premier in June of 2011. Music from Brian's 'Xclassics' CD has served as astronaut "wake up" music on NASA shuttle missions.
The late Lionel Hampton called Brian Slawson...
"One of the finest percussionists to
come along in many years!"